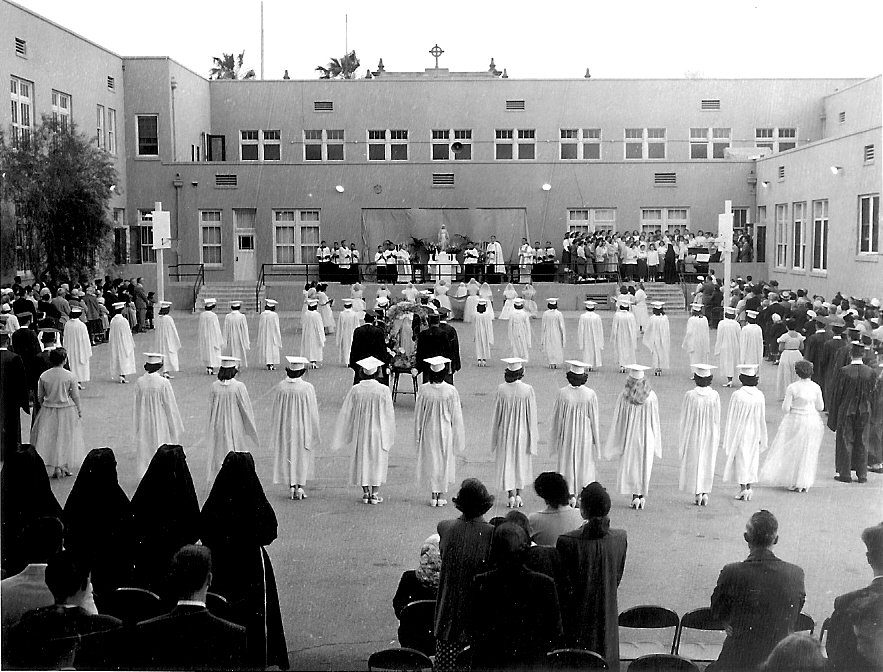 POMONA CATHOLIC SCHOOL
OVER 120 YEARS OF GREATNESS.
1898 - 1848
Thursday, September 15, 1898, marked the opening of the Academy of the Holy Names for the enrollment of pupils. The teaching staff consisted of six Sisters from the Mother House in Oakland, who had arrived to assume charge of the school.  The curriculum included all grades from first to tenth, inclusive, consisting of primary, grammar, and academic grades.  A devastating fire destroyed much of the original building in 1927.  The sisters moved the students and teachers to the Elks Club until the current building was erected in 1928.
The Academy was a boarding school for girls, conducted by the Sisters of the Holy Names.  During World War II the sisters realized that they did not have enough sisters to staff all five of their schools.  The last graduating class from the high school was 1943.  The new pastor at that time, Rev. Thomas P .English, recognized the need for a Catholic high school for girls and boys in the Pomona area.  The sisters told him that they did not have the personnel to open such a school.  In fact, they were regretfully leaving Pomona.  Fr. English asked to purchase the property for use as a high school.  He asked the Felician Sisters to come from Chicago and staff both the Academy as well as the grade school.
1948 - 1952
SAINT JOSEPH HIGH SCHOOL
In order to relieve overcrowding at St. Joseph Elementary, the former academy was used by the junior high students for the first two years.   As the academy building was converted from dormitories to classrooms, a grade per year was added until the full complement of classes were established.  In 1953, St. Joseph High School became Pomona Catholic High School.
WHAT'S IN A NAME?
POMONA CATHOLIC HIGH SCHOOL, POMONA CATHOLIC MIDDLE SCHOOL, POMONA CATHOLIC SCHOOL
SOMETIMES LIFE BRINGS YOU FULL CIRCLE TO THE SAME PLACE YOU HAD BEEN EARLIER, JUST TO SHOW YOU HOW MUCH YOU HAVE GROWN.
AISHWARIYA PATRA
Pomona Catholic again became co-ed in 2009 when the Pomona Catholic Middle School was opened.  In the Spring of 2018, Pomona Catholic was named the middle school for the Pomona family of Catholic schools, which includes St. Joseph and St. Madeleine Schools.  At the recommendation of the accreditation team, the name of the school changed one final time to Pomona Catholic School